Throughout history, women have been making amazing pieces of art but often remained in the shadows of their male counterparts. Female painters had to fight against gender biases and opposition from the chroniclers of the art history, they also faced various training and education restrictions as well as difficulties in selling their work and gaining recognition.
These ladies are on my "favorites" list of today's living painters, they have incredible talent and creativity and I really think that everyone should know about them.
Marcela Donoso
Marcela Donoso is an important painter in the Latin American current of "Magic Realism", where Jose Donoso and Isabel Allende belong in literature, or Fernando Botero in sculpture. She also demonstrated her creativity in other visual arts like books illustrations or films as Production Designer.
Francoise Nielly
Francoise Nielly lives in a world of images.
She has explored the different facets of "image" all her life, through painting, photography, roughs, illustrations and virtual, computer-generated animated graphics. It is clear now that painting is her direction and her passion.
She gets her sense of space and construction from her father, who was an architect.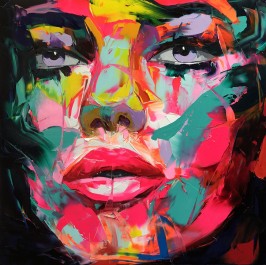 Myrna Báez
Myrna Báez is a Puerto Rican painter and printmaker. She is considered one of the most important painters and engravers in Puerto Rico.
"I do not want to do landscapes for tourists nor make pictures of the sentimental, nostalgic or folkloric things that people in this country suffer from due to a lack of identity. I am using landscape because I am interested in the form, because I'm interested in color, because I'm interested in the place… I'm interested in expressing: light—that which surrounds us, the shapes that have formed me, that have made me and that move me."
Shereen Audi
Shereen Audi was born in Amman, Jordan in 1970 and graduated from the Institute of Fine Arts in Amman in 1992. Audi's work is highly personal depicting her 'inner self', yet eschews profound reflections on the Middle East for something more callous; a critique of twenty-first century reality, an enthusiastic negation of all that we are and all that we feel, and a retreat into the chains of a soothing forgetful escapism. Audi's art reveals as well a range of universal emotions and concerns that are inherent to the female identity, her presence and her voice that should be heard.
Fairy wings and cell bars, women blindfolded, beheaded and tied down, represent materialism and consumerism, at the same time make an emotional plea to be free. At other times her work celebrates happiness in times of hardship, and child-like simplicity over sophistication. Her exploration of new medias including video art and photography in 2014 received a lot of praise and appreciation from art viewers, and her "Soul's Flight" short video was presented in Europe at different events.
www.shereenaudi.com
Alyssa Monks
Alyssa Monks is an American painter currently based out of Brooklyn. She specialized in large oil paintings and is recognized both in the United States and Europe for her pieces including figures obscured by water, steam, and vinyl.
Jane LaFarge Hamill
"I rely on action and speed of hand to cut out conscious thought, the ego, to get to something more primal. They're portraits in a sense because they're a physical result, or really a re-playing after the fact, of interactions, both real and imagined. I suppose there's an effort to render an emotional flash that both points at something, but was that really anything? or is this the residue of a gesture of the present re-telling, re-remembering, re-asserting of acts that go uncounted in the dense passing by of our day, week, month, year. The paintings jump between assumptions of clarity, anticipations of anonymous comfort, and highly charged confusion – parked in the concrete instant of a brain scan."

Jenny Saville
Jenny Saville RA is a contemporary British painter associated with the Young British Artists. She is known for her large-scale painted depictions of nude women. Saville works and lives in Oxford, England.